Free music training for one ALD setting with Music as Therapy International
United Kingdom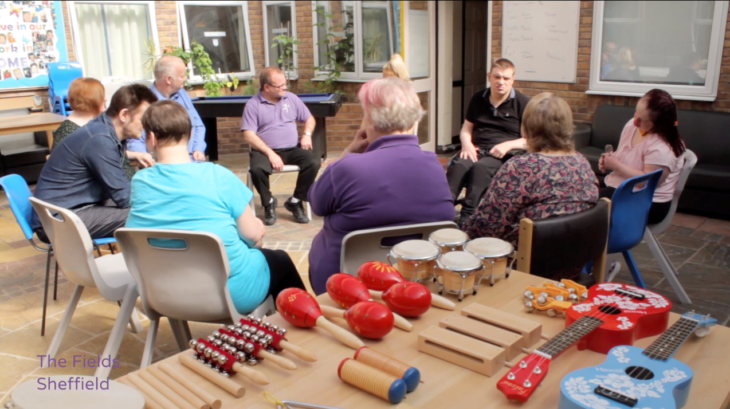 We are offering one UK care setting for adults with learning disabilities the opportunity to partner with us for a fully funded music training project.
During the project, a music therapist will train up to four members of staff to be able to deliver their own therapeutic music groups for the people in their care. The training will take place in their place of work, half a day each week for six weeks. All staff will be able to access free ongoing support from the charity's Motivation Programme once they have completed their training.
Our projects have dual benefits for staff and service users; practitioners gain skills, confidence and agency, while those in their care access meaningful music and its therapeutic benefits. Take a look at our theory of change, and watch our UK Film, to get a sense of our work.
The positive impact of the training for our staff has been increased confidence and a greater satisfaction in their job role, and meaningful time and participation with the children and young people.

Mel Burrough, Head of Therapy at The Children's Trust, July 2021
Why ALD?
Working with adults with learning disabilities (ALD) has been a key focus of ours since the inception of our UK Programme in 2016. It was clear to us that adults with learning disabilities have a real need for individualized, sensitive, responsive interaction and meaningful relationship building, but that the UK music therapy profession cannot meet this need alone due to its comparative size.
Music can change the way we care.

Emma, Partner at The Fields (ALD Residential Centre, Sheffield)
Our Director Alexia explains: "The research us shows that music can be an effective tool for adults with learning disabilities to develop communication and social skills, interpersonal skills and to build relationships. As a non-verbal medium, it can support the emotional development and self-expression of a person with a learning disability, encourage interaction and diffuse stress associated with interacting. Participation can give an individual opportunities to express their preferences, act independently and make choices. And all of the above is proven to increase self-confidence and self-esteem, acceptance and success."
Take a look at our Evidence Base to find out more about this research, our ALD partners' experience, and the alignment of our approach with the NHS Transforming Care recommendations for creating capable environments. You can also read a case study on our first ALD project, with residential home The Fields, back in 2016.
In 2019 Darren, an adult with a learning disability and participant of The Montrose Centre's weekly music group, told us his story about why the music group matters to him.
What I get out of it is that i'm really good at listening… I like that it's not all about me.

Darren, music participant with learning difficulties, attends The Montrose Centre
Since the advent of Covid and following worrying reports of the pandemic adversely affecting people with disabilities, we are concerned that this need is now greater than ever. Part of our charity's Covid emergence plan is to ensure we support the provision of the kind of care that is needed right now, to the people who need it most.
So, to ensure care settings can access our training regardless of their budget, we have decided to prioritise a training project for one ALD setting this year and offer to fully fund the project in its entirety.
Interested?
To find out more about what a MasT project entails, have a look at our Meaningful Music in Care leaflet. If you're interested in discussing this project, please get in contact with UK Programme Coordinator Freya at ukprogrammes@musicastherapy.org/07792783183. Please remember this is limited to one setting, so prospective partners should indicate interest as soon as you are able to.
We looked at the training matrix and saw on-going in depth training was planned to support staff members' continued learning and was updated when required… training included music therapy.

2017 CQC Report rated 'Outstanding,' The Fields