Promoting agency for vulnerable adults
United Kingdom
Adults
Disability
Mental health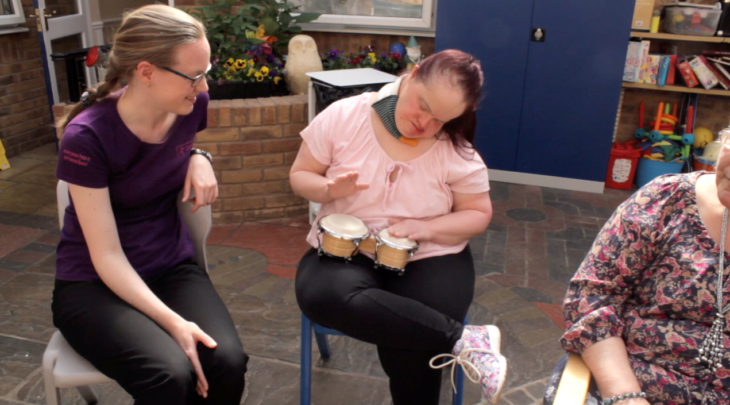 The Fields is a specialist care home providing support for adults with significant learning and physical disabilities just outside Sheffield. In 2016 they were one of a group of care settings who partnered with us to pilot the UK Programme.
The Fields prioritises creating a home-like environment, with communal and inclusive activities available for the residents to take part in when they choose. Having wanted to incorporate music into this programme for some time, and having already worked with music therapist and MasT Advisory Panel member Caroline Anderson, they commissioned this skill-sharing project for five members of staff. It was important to Manager Anne-Marie, and Activity Coordinators Emma and Lucy, for the music group to be a part of this inclusive atmosphere of person-centred care. Together it was decided that the group would aim to promote relationships between service users, create a fun communal environment, and promote listening, leading and turn-taking skills.
The team decided to run an open music group, encouraging agency for the residents, with the option to join in at the level they felt comfortable at. Over the first few weeks, the staff observed and then joined Caroline in working through a number of musical activities, allowing clients to do as much or as little as possible, and giving them chances to lead parts of the session themselves if they wished.
As residents could join the sessions once they had already started, there was a big learning emphasis for staff on keeping the activities flowing while welcoming others into the circle. Emotional and self-expression quickly became apparent as an important theme, as staff and residents began to get to know each other better.
Here people with learning disabilities struggle to express how they feel quite often, and I think this is a creative tool to show anger, sadness in more safe productive way.

Partner feedback, The Fields
It broadens your mind a little bit, it makes you realise that communication isn't a one way street and it doesn't have to be verbal… Each of these people has a very unique way of getting their feelings across to you and if you can just find a way for them to have an opportunity to do so then it opens up a whole other area for them.

Partner feedback, The Fields
Everyone reported that the benefits of the session had been surprising and farther reaching than expected – the impact visible even after a short period of sessions. Staff noticed a difference in two residents in particular. Ella*, who experiences anxiety, was concerned at first that she would be the centre of attention if she went to the music group. Once her freedom to leave whenever she wanted was clear, she began to enjoy the music, finding the group relaxing rather than scary. Towards the end of the project, she had begun to join in without hesitation, choosing songs and playing impromptu solos.
Music is something [Ella] looks forward to every week, and she is even considering buying an instrument of her own to play.

Caroline Anderson, Lead Music Therapist
Ian*, though a music fan, rarely attends group or social activities. Despite having reserves about the group, particularly the performance element, he was persuaded to give it a go. His confidence to take part grew noticeably as weeks went by, and now he plays different instruments, plays solos for the others and even sings when the group does his favourite Beatles songs.
It is wonderful to see [Ian] interacting with other service users, particularly with ones who live on different units. He even takes part in the body percussion activity with a great deal enthusiasm, despite the fact that he is blind, he says he really enjoys trying to do the activity with the rest of the group.

Caroline Anderson, Lead Music Therapist
As the project drew to a close, the team reflected on the gradual impact being felt not just in the group but across the whole centre. Its 54 residents all now have the opportunity to access meaningful music as part of their care. The staff group felt confident that their new skills would allow them to continue running the sessions, and intended to expand the project to different units. And, a year later in 2017, they even took part in our UK Film.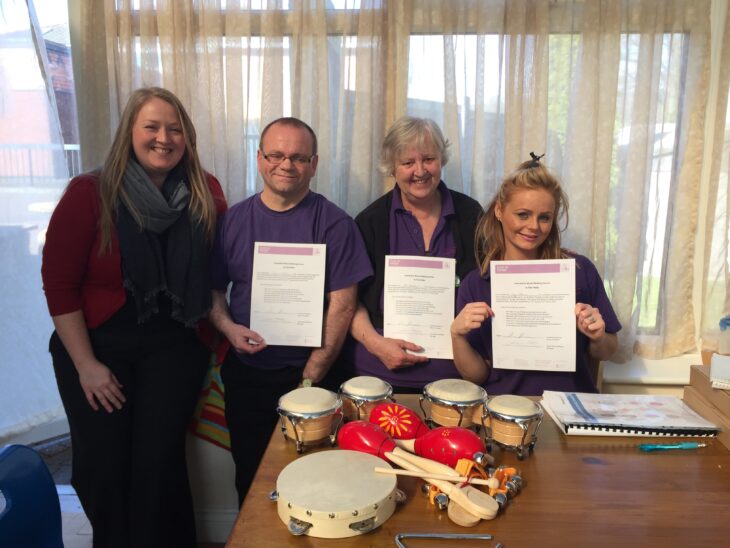 Related projects
Introductory training
2016

On-site skill-sharing: The Fields (Sheffield) 2016

United Kingdom