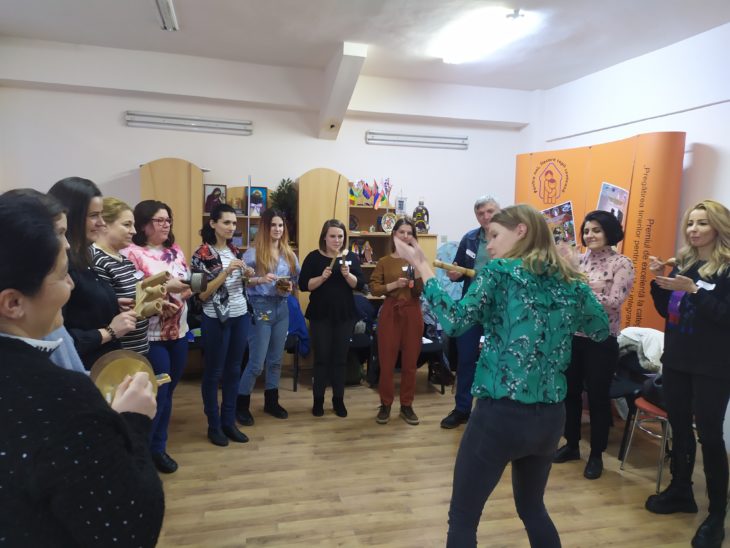 This photo is of me working in Romania with the local practitioners as they embarked on our Distance Learning Programme to explore how they might use music with young children with disabilities. Taken a few weeks before lockdown, we had no idea we might look back at the human interaction, our playful shared music-making, even our physical proximity, with the nostalgia we now do.
It's unsurprising to say the past six months have presented my team with many challenges. Many you will share with us. But specific to the work of Music as Therapy International has been the question of our role during the COVID-19 pandemic. Early on, we explained that we could see the Introductory Training we provide for care practitioners needed to be put on hold. Understandably, our partners worldwide had other priorities and we were happy to focus instead on how we could cheer them on from the sidelines. You can read more about what this felt like for our UK Programme Co-ordinator, Freya Gibbs in her recent blog "What I've learnt while trying to support our UK Partners during the pandemic".
Throughout this time, my whole team have been phenomenal. Not congregating in the office perhaps enabled us to protect each other from the stresses and anxieties we all worked through on a daily basis – living with people who were shielding, juggling home schooling, losing income from other work, changes to where we were living and working – but only to a certain extent. We shared the minutiae of our lives and the disappointments of everything we had planned which we were discovered was not going to be possible. But we also allowed each other time and space to think deeply and creatively about what was viable and how to make it happen.
Alongside us, our Partners have guided us generously: We have seen their local leadership flourish as they've told us how they can use music independently, where their challenges lie and where they need our support. Our supporters have believed in us, freeing grants from restrictions or time limitations to enable us to make adjustments to our activities we couldn't have foretold and we might not have been able to afford without this flexibility. Our UK and international project contributors, music therapists, volunteers and Trustees have been on hand with practical advice and a willingness to help us tackle challenges as they have arisen. We've forged new relationships with like-minded organisations through which we've been able to share relevant learning. Even Lambeth council adjusted its eligibility criteria for the support it was offering charities, listening to feedback and recognising that a charity's cashflow is different to that of a business.
We were fortunate we started in a strong position: A great team, a good level of reserves and a clear three-year strategy to work towards. Yes, we lost the rewards of delivering international projects in person, of seeing the impact of music for our partners and their service users first-hand, which typically punctuate our year and inspire us all. But this created time to manifest our commitment to sustainability and find fulfilment in this, as our previous blog, "The time to keep going" explored.
Meanwhile, the development of new projects in Myanmar and India have continued, we are working towards the conclusion of project delivery in Romania and the UK, and enquiries for new projects in a number of different countries (including the UK) have begun again. We have concrete project plans, with in-built detailed COVID-19 risk mitigation contingency arrangements, ready to see us further the use of music within the care of vulnerable people of all ages in 9 different countries next year. You can read our current COVID-19 update here, which includes more detailed information on our UK and International Programmes and their comprising projects.
I'm still inclined to say it quietly, but despite the myriad difficulties faced we've been able to inch forward with the charity's strategic vision, on which we will be updating you in our Annual Report at the end of the year. It would be a serious understatement to say that back in March, I had no idea this would be possible.
Our next COVID-19 update will be published on 1st March 2021, when the picture may be very different. Clearly we are far from through the woods, but for now we have clarity and confidence in how we will approach the next six months. Thank you for your ongoing interest and support. We have valued it and we still need it.
Alexia Quin
Director