'Music Helps' gets support boost from Music for Dementia campaign
India, United Kingdom
Dementia
Elderly
Unpaid carers
Projects
Awareness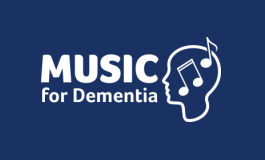 As you may have read in our news post last month, following the successful pilot of our online training tool 'Music Helps' with caregivers in India, we extended an appeal to UK carers of Indian heritage to take part in this phase of the tool's development.
To aid us in our efforts, we recently turned to the Music for Dementia campaign to enlist their help and were delighted by their support not only of the current version of the course for an Indian audience, but in its potential relevance for caregivers in the UK.
Music Helps is perfectly designed for a care workforce facing significant challenges. From the way it's structured and sliced into manageable segments, to the tone, language and level at which it's pitched – it's substantial without being overwhelming.

Music is often seen as another thing to do, but this training demonstrates how music helps to make everyday tasks easier.

It's clear how people completing it will gain knowledge and skills they can practically apply into the care they provide. This promises to be a timely and impactful training tool that will support care givers so people living with dementia can have access to music as part of their daily care.

Grace Meadows
Programme Director, Music for Dementia
It goes without saying their encouragement acts as a huge boost for the work we are doing to scope the viability of the course for caregivers in the UK. Coupled with the early impact results of our pilot and the support we've already received from Cupsmith and David Mayhew CBE, Chairman of Alzheimer's Research UK, this is proving to be an exciting time for Music Helps in both India and the UK.
Watch this space or sign up to our newsletter to keep up to date with our progress.
Related projects
Introductory training
2021

Online training: Music Helps (Hyderabad) 2021

India

Dementia
Elderly
Unpaid carers