Radio 4 Appeal: Thank you for making the difference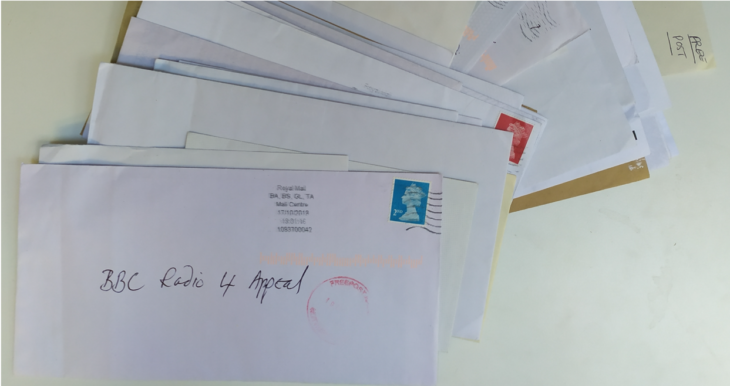 With a little over a month having passed since the end of our official BBC Radio 4 Appeal week, we're extremely proud to announce we've smashed our target thanks to all of the support we received!
As many of you will have seen or already know, as the culmination of almost a year's work, the week itself was a flurry of activity. There was a major effort from the whole team to maximise the Appeal's impact through social media, as well as the shared excitement of opening dozens of cheques forwarded on by the BBC following our three Appeal broadcasts during the week.
Receiving donations
In total, we received over 150 donations, comprising: 72 cheques, 17 via phone, 57 through the BBC's website and 7 through our Virgin Money Giving page, with amounts ranging from £4 up to £500! For the whole team it was like Christmas came early!
Our amazing community fundraisers at Hazlegrove Prep School held a music concert during the Appeal week (above), which led to the charity receiving a grant towards our work in the UK from the Fineman Trust – hopefully the start of a great relationship!
We were also incredibly grateful to accept donation of a set of musical instruments, which we have given to one of our Local Partners in Romania to use with the children she works with (below) and will be offering to our UK partners as part of the Motivation Programme we launched this year.
Overall, thanks to the many donations we received via cheque, phone and online we raised a rather incredible £15,200!
Social media
We received over 25,500 views of our posts on Twitter, with 10,581 more on Facebook, generating over 900 interactions (made up of shares, likes and comments), added to a further 550 shares of the BBC Radio 4 Appeal web page.
Thanks to the help of MCM Net, who ran a targeted marketing campaign on our behalf, we were also able to reach an additional 234,176 people, with a further 409,426 views and 2,615 interactions on Facebook and Instagram. This outsourcing of specialist duties was a genuine first for the charity, as we felt it was a great opportunity to 'test the water' of social media promotion in an effort to widen our audience and, ultimately, our supporter network.
Making the difference
As I wrote in my blog post during the week, the Appeal would not succeed without your help, so it is with no small amount of gratitude that on behalf of the whole team here at Music as Therapy International, I thank you for all of your support.
A BBC Radio 4 Appeal is about so much more than just the funds raised, too, and we have no doubt the positive impact will continue to be felt for many months – even years – to come. A great deal of work has gone into making it a success, and whether it was through sharing the Appeal on social media, telling friends and family, or making a donation to the cause, I can wholeheartedly say you really did make the difference.
So, all that is left for me to do is to thank you once again for all your support. Thank you!