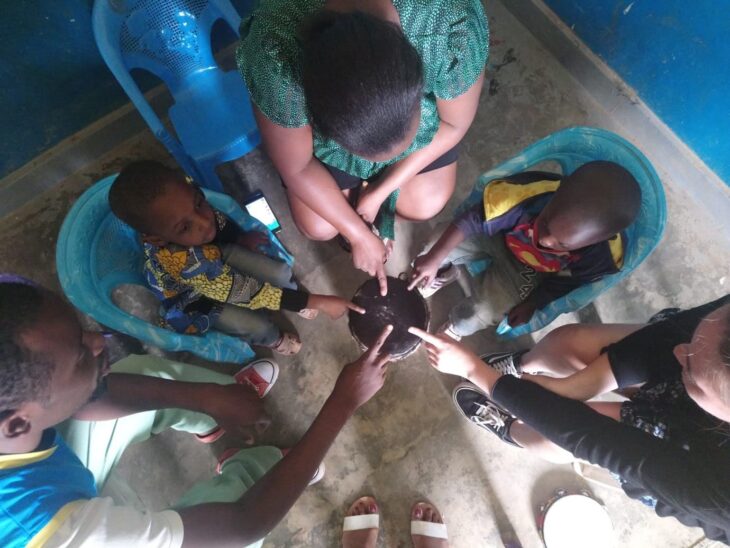 Volunteering on projects
Each of our field projects is led by a professional music therapist, typically accompanied by a volunteer assistant keen to learn about music therapy alongside our international partners and to share wider responsibilities relating to project delivery with the music therapist.
Music therapists
We regularly deliver projects with opportunities for new music therapists to contribute to our work overseas. We are always keen to hear from music therapists interested in delivering a project to share their skills with others. Sign up to our mailing list at the bottom of the page to receive news of volunteering opportunities when they arise, or get in touch if there is a particular country in which you have a specific interest.
We are also always interested to hear from music therapists interested to work with us to share their skills with care settings known to them in the UK, in a freelance capacity. Get in touch if there is somewhere you believe a skill-sharing project is wanted locally with which you would value our support.
Assistants
You may be a musician, training to become a music therapist or someone who has a particular interest in international development, but anyone can volunteer their time to help deliver one of our international skill-sharing projects.
We may not have a suitable project in the pipeline right now, but sign up to our newsletter to receive general updates on the charity and our work and/or sign up to to our volunteering mailing list at the bottom of the page to hear about project opportunities as they arise.
Volunteering in the UK
We don't recruit volunteers to join our projects in the UK, but we are always eager for volunteers to help us behind the scenes. If you would like work experience to find out more about what it is like working for a small charity, we are always open to people willing to volunteer their time with office duties and organising fundraising events. If you'd like to know more, please get in touch.
Careers in music therapy
If you are interested to find out more about a career in music therapy you can find out more in our Music Therapy as a Career information pack. View a sample of the pack. The full version is available for a suggested donation of £5 (to cover our costs). Get in touch to request one.
Join our volunteer community