ELCJHLS Introductory Training Project Update
Occupied Palestinian Territories
Children
Mental health
Projects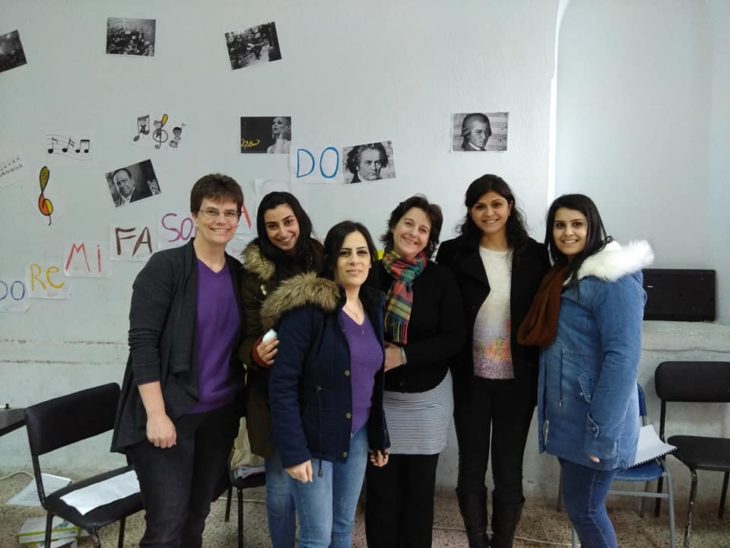 A short training was planned to top up skills learnt some years ago, and bring in new people as staff have moved on, in the ELCJHLS in the West Bank. You can see where this training began in 2012 (Sept and Oct blogs) but it has been in process since Liz made contact with the schools in 2011.
Liz and Hazel arrived in Beit Jala after an uneventful flight, and were met by a driver who stoically braved rush hour traffic to deliver us safely to the Angel Hotel by early evening. We had time to settle into our rooms before the school social worker Samar – who has kept the music programme going for the last 7 years – arrived to take us for dinner. She was so pleased to see us, and was quick to bring us up to date with all that was happening. Plans were confirmed and a delicious dinner eaten before a good night's sleep.
Friday morning saw us all at the school bright and early. We had some extra people, so quite a crowd gathered in the Beit Sahour music room for coffee and pastries to start the day. Full of enthusiasm, and keen to explore the wide range of instruments prepared by Samar, the group got underway. Practical exercises, discussion and videos all formed aspects of the 2 day training, and the wet and windy weather outside could not dampen anyone's spirits. People really got into the swing of things – especially when they were allowed to role play the part of difficult students! I think teachers especially love that opportunity, and those of us playing trainers had to work very hard to contain them and express our positive regard… Everyone participated fully and looked at ways to incorporate their new skills and frames of reference into their working lives. For those who will be running small groups, we finished with paperwork and planning for supervision and further learning. As a farewell and appreciation, the group sang to us a series of traditional songs which were cheerful and moving.
At the end of Saturday, Samar took us to her home, to have dinner with her lovely family, who tried in vain to teach Hazel how to count to ten in Arabic! Stories and dance of all kinds were shared. We ate delicious baked chicken with spices and veg and salad with mint, and watched the wild storm and rain fade to reveal a rainbow arching over a Mosque. Later in the evening we went to watch another friend; musician and teacher Wassim, who was performing traditional Palestinian music at the Walled Off Hotel in Bethlehem. Such a treat! Beautiful, haunting melodies and rhythms that take their listeners deep into history. Oud and saz, riq and piano blend in turn. We watched children and an audience member come and sing along, and looked out at the Wall, covered in art and pleas for peace. Eventually, Samar delivered us safely back to our hotel.
That was a long day! On the way back to Tel Aviv on Sunday morning, Liz and Hazel stopped for breakfast in a picturesque old café in the hills that was redolent of fragrant woodburning stove and Arabic coffee. The beautiful views and deep silence was an escape from the world and it was the perfect way to finish; thinking about our project and enjoying goats cheese, bread and tea, with the terraced hills rising in every direction around us in the brighter sunshine.
A straightforward flight home Sunday afternoon saw us back in our homes before midnight. What a whirlwind visit! Worth every minute and giving us lots to think about in the weeks ahead.
Related projects
Introductory training
2019

On-site skill-sharing: ELCJHLS (Beit Sahour, Bethlehem and Ramallah) 2019

Occupied Palestinian Territories