Feedback from the World Congress of Music Therapy 2014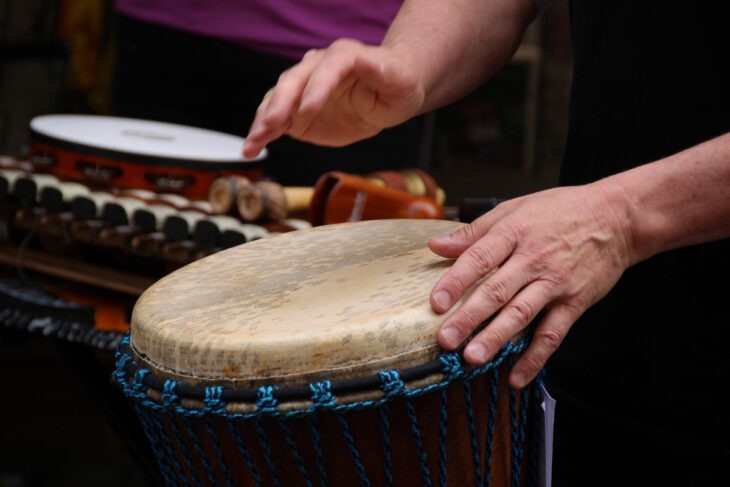 Over 1000 people attended the World Congress of Music Therapy,
most of them practicing Music Therapists or students from all over
the world. This made for a very interesting week filled with round
table discussions, varied and stimulating presentations as well as
many shared ideas and understandings of what music therapy is and
when and where it can be used.
We were pleased to have 7 Music as Therapy
International representatives attend the congress and present
three papers, one poster presentation and a round table discussion.
I am pleased to share the following feedback from Sarah Hadley,
Nicky Haire and Cathy Rowland who have long been involved with our
activities overseas and at home.
We are pleased to say that Sarah Hadley's paper, 'necesity is
the mother of invention: the
inception of interactive music making' was recieved with much
enthusiasm. As the leader of the largest NHS paediatric Music
Therapy service in the UK, Sarah recognised how formalised skill
sharing was to become an imperative in order to be able to meet the
increased demand and demography of the Music Therapy caseload
within the Royal London Borough of Greenwich.
This paper traces the origins of this formalised skill-sharing
from a Home Programme for parents of children with Downs Syndrome
(1994) and the significant contribution played by a period of time
spent training Romanian practitioners on behalf of the charity
Music as Therapy International to use music with children with wide
ranging needs (1999), in developing a new approach now called
'Interactive Music-Making' (2009).
The Interactive Music-Making approach has successfully
extracted two specific principles of music therapy, namely:
1.Creating a secure attachment base as the basis of
achieving positive developmental outcomes
2.Using music in a way which is responsive to the children's
innate musicality
This paper explores how it has been possible to transfer these
key principles into everyday practice from the traditional highly
specialist context, which is rooted heavily in professional
musicianship, to create a training programme which requires no
formal musical skills of its students. By building instead on the
students' strong motivation to use music to support healthy early
child development, this paper demonstrates how it has been possible
to make effective musical activities and techniques accessible to
early years practitioners. This in effect has widened the scope of
practice to support the early identification of needs which may
require Music Therapy or has prevented the escalation of need to a
level where a clinical intervention would be indicated.
Nicky Haire, Caroline Anderson and Alexia Quin chaired a round
table discussion about the role of digital Media within our
activities in Rwanda. Nicky gave us the following feedback:
Nicky Haire, Caroline Anderson and Alexia Quin chaired a round
table discussion about the role of digital Media within our
activities. Nicky gave us the following feedback:
"It was such a fantastic time. Not only hearing other
presentations from fellow MasTInt teams but mixing with lots of
different music therapists from around the world and sharing views
and ideas from all sorts of contexts and stances. The breadth of
work was inspiring but in addition to the papers and presentations,
it was the in-between conversations about music therapy with people
I'd never met who perhaps worked in very different settings which
made it very special."
Cathy Rowland, our Clinical Advisor co- presented a paper
about our Distance Learning Programme. Cathy fed back about World
Congress:
"For me, to present about the Distance Learning Programme, a
project that I'd been directly involved in developing was very
exciting. To feel a buzz in the room afterwards and to hear
people's pertinent questions felt like a reward for all the hard
work that had gone into the writing. I think this renewed a
confidence in my writing abilities and my ability to communicate my
ideas to a wider audience. It was also very interesting for
me to sit in on numerous other presentations and to hear about the
extraordinary range of music therapy work happening throughout the
world. Some of these presentations touched on dark
humanitarian subjects, (such as the holocaust, and work with
Israeli soldiers suffering from PTSD). While very upsetting,
I am very glad that I heard these presenters speak. Other
presentations explored more expansive, spiritually connected
subjects such as the role of mindfulness in clinical work and in
our own lives as practitioners. I felt very inspired
as I watched many people speak so articulately and with a passion
about their own work"
Jane Robbie, our Projects coordinator had some interesting
conversations with people who were at the poster presentations. Our
poster summarised the variety of activities we are involved in
around the world. Jane shared her experiences about the
congress:
"I had a fantastic time at the World Congress! As Music as
Therapy International's Project Manager, it was so interesting to
meet Music Therapists form all around the world; some of whom I'd
had email correspondence with previously or some I'd been looking
to make links with regarding future projects. The value of being
able to sit down, enjoy a coffee together far outweighed the months
of rather dry email correspondence. I felt privileged to be able to
share experiences and find out more about the vulnerable
communities we've been asked to support now or in the future.
Since returning, I have followed up discussions with Music
Therapists from Palestine, India and Italy.
Another side of the conference was being able to support and
listen to our own team of Music Therapists deliver their
presentations. I felt so proud! Although each presentation had a
different focus, or country or project to discuss, each presenter
shared the same level of passion and obvious commitment to their
chosen subject.
All in all, it was a hugely valuable experience and I feel
confident that so many positives will arise from a relatively short
but intensely packed few days at Krems".
Related projects
Capacity strengthening
2014

World Congress: Cultural Diversity in Music Therapy Practice, Research and Education, Austria 2014

Other International

Young people
Mental health
Elderly
Disability
Children
Adults