Week four at Chelsea Court Place
United Kingdom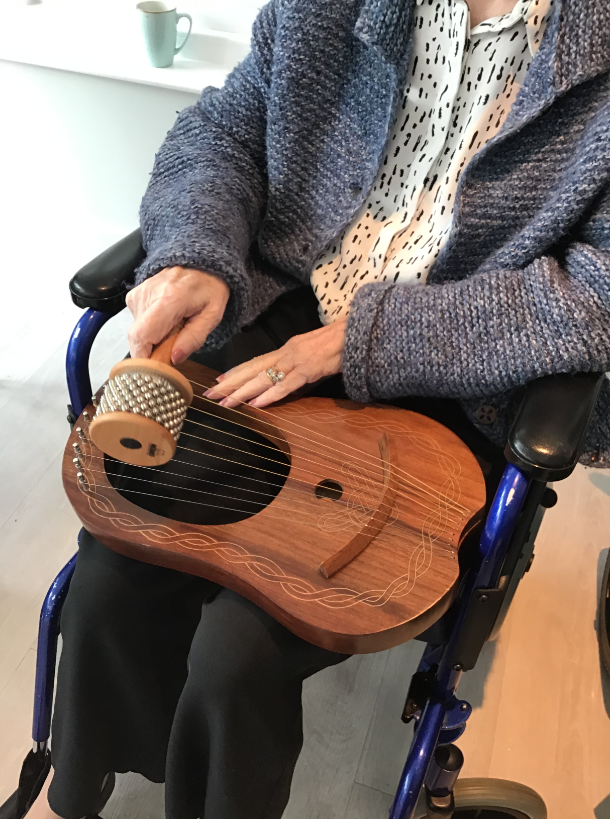 Music therapist Susanna Bajali reports back at the half way point from our project closest to home, at Chelsea Court Place in Kensington, London:
We're now into week four of the Chelsea Court Place project and time is flying away! Already it has been a great encouragement to see growth in confidence amongst the staff doing the training, and for the members participating in the groups to see them enjoying using the musical instruments and expressing themselves.
I am at Chelsea Court Place every Friday – I run a group in the morning and a group in the afternoon and try to see two members for one-to-one at other points during the day. There are 15 members resident at Chelsea Court Place; such a small number means that, by the end of the project, all of them will have either attended a group or experienced one-to-one sessions. Seven staff members are doing the training and I have been really impressed by their commitment – some are coming in on their days off to attend, and there is a great spirit of 'can-do'.
As always, its wonderful to see the effects of music-making, especially in the groups – members really 'come alive' and there have been some beautiful moments of connection. On arriving to the group, one member said she was feeling unwell and apprehensive, however, when given a metallophone to play, she visibly relaxed and at the end of the group announced happily, "I could play that all day!"
So, a wonderful beginning to what I am sure will be a wonderfully successful project here at Chelsea Court Place.​​​​​​
Related projects
Introductory training
2019

On-site skill-sharing: Chelsea Court Place (London) 2019

United Kingdom