Supporting best practice in the UK
United Kingdom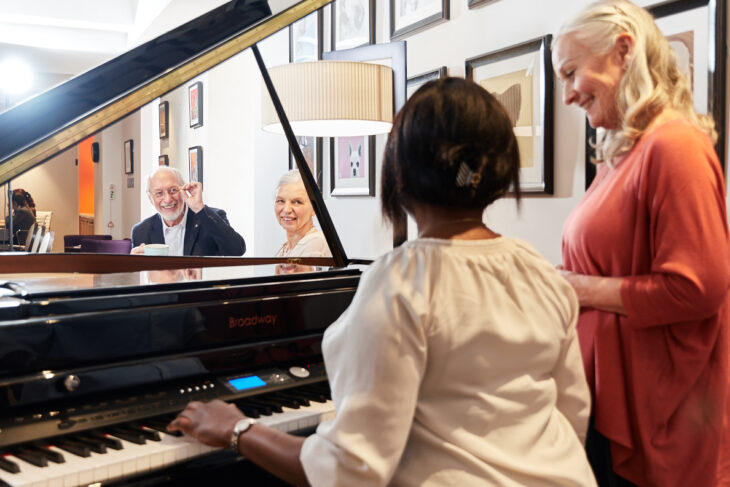 As a luxury private care home with one caregiver for every two residents, Chelsea Court Place is not your typical care setting. Working with them to delivery on-site skill sharing in 2019 presented an opportunity to support and champion their innovative and progressive approach to care. Susanna Bajali, the leading music therapist, trained their caregivers how to run group and one-to-one music sessions. To ensure everyone could take part, two groups were set up – one for advanced and one for earlier stage dementia – and for residents who could not leave their room, the music sessions came to them.
Susanna and the caregivers worked together to design the aims for residents, and decided to focus music sessions on giving members choice, preventing isolation, encouraging fun and self-expression. They were also keen to learn techniques to manage challenging behaviour and relieve symptoms of dementia, such as depression and anxiety, in the vulnerable elderly people they cared for.
Throughout the project, Susanna made sure there was time for caregivers to reflect on their learning. This meant music sessions were perceived to be more than just a fun activity, but as a way to really address the symptoms of dementia. The group noticed the importance of providing space for difficult feelings, and commented on the fact that through music, residents could communicate without actually saying anything. Though they had in the first few sessions tried to 'force' engagement, they reflected that it was OK for the residents to respond in their own time.
I'm at the top of the band! I never knew I could do this!

Resident & music participant
Gradually, as the caregivers assumed leadership, they saw the residents expressing themselves in new ways, and doing things they hadn't done before: taking solos, standing up and moving, sharing songs and musical conversations. As sessions neared a close, some of caregivers remarked to Susanna on how surprised they were at how responsive their residents had been, just by taking part in music. 
Music therapy can really bring back memories for the members living with dementia. It can really uplift their moods, if they feel depressed, anxiety or pain.

Caregiver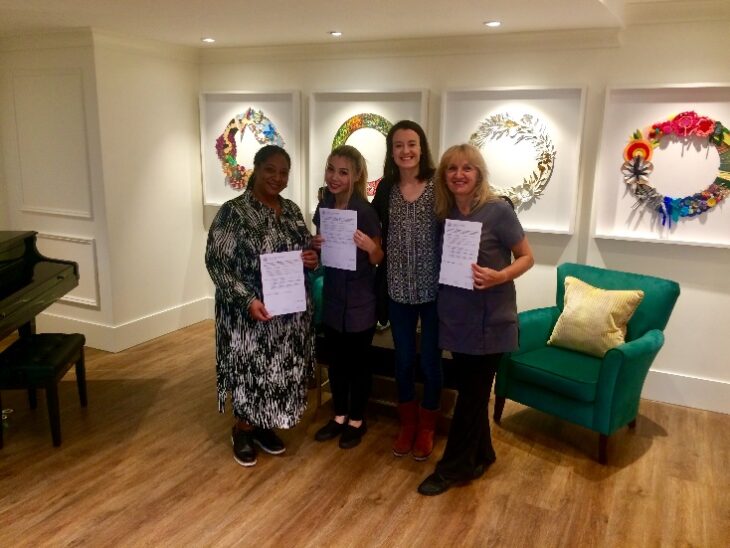 I've become more confident, and now every day is a different day – reactions and interactions with the members are always different

Caregiver
By the end of the six weeks, all five caregivers were able to lead their own music group using the instruments sensitively, thinking about the residents' needs – all fifteen of whom had accessed music directly. The introduction of interactive music-making also had a knock-on effect: Chelsea Court Place's manager, noticing that some residents with more advanced dementia had needed some additional support, went on to commission Susanna to provide clinical music therapy to support them.
Related projects
Introductory training
2019

On-site skill-sharing: Chelsea Court Place (London) 2019

United Kingdom