Building a profile: Georgia's first national music therapy conference
Georgia
Children
Disability
Young people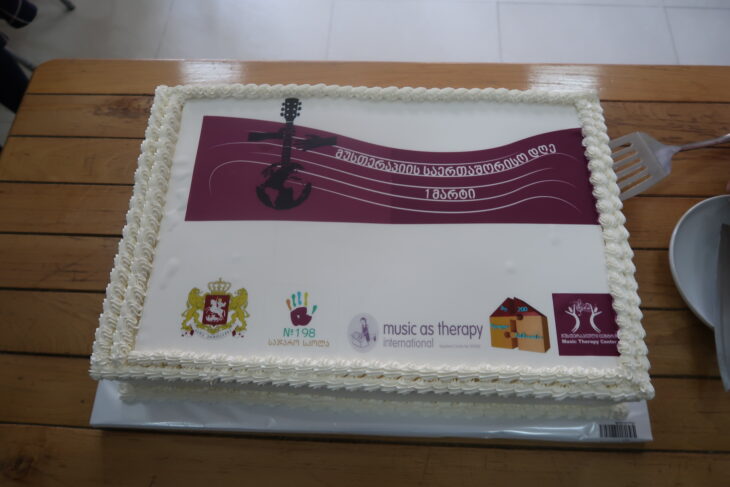 Having worked with Public School #200, a residential school for pupils with additional support need in the Gldani region of Tbilisi, in 2012, in 2014 we returned to skill-share with Public School #198 and the Parents Bridge Day Centre. With further support from MasT over the years, our Georgian Partners have worked to embed music in wider care for vulnerable people in their society – including securing EU funding for Georgia's first Music Therapy Centre in 2017.
In 1st March 2019 (World Music Therapy Day) Teona Kacheishvili (Head of School #198) hosted the first Georgian Music Therapy Conderence. Advisory Panel members Jenny Laahs and Isabel Bedford represented the charity at the event in Tiblisi, contributing two presentations, as well as a support workshop the following day for the Centre' music therapists.
The conference theme was 'Music Unites' – which truly represented the attendance at the event. Partners and stakeholders from across the Georgian music therapy and wider care sector had the platform to share their experiences, and learn from one another. This included music therapists and care managers, as well as representatives from the Ministry of Education, parents of beneficiaries (who shared testimonies), and care practitioners from other towns. There was a tangible sense that our Georgian Partners were embedding music into care in their country.
Music therapists at both the Music Therapy Centre and School #200 presented case studies on how they had used music to support the vulnerable children in their care. At the end of the event, discussion and questions spilled over time. The Partners' commitment to music, and their pride in their achievements, was clear.
It was a very well attended event, with over 55 delegates – at one point, there was standing room only!… Discussion was rich throughout the event.

Jenny Laahs, music therapist
Combining the Conference attendance and a Support Visit meant this trip provided a dual opportunity for our Georgian Partners' professional development. Following the Conference, Jenny and Isabel ran a workshop for seven partners focused on song-writing. The staff really appreciated seeing song-writing modelled as a clinical tool, and reflected on the importance of support visits for them over the years.
Staff told us that they felt inspired, and also spoke of how useful they had found the previous CPD trainings.

Jenny Laahs, music therapist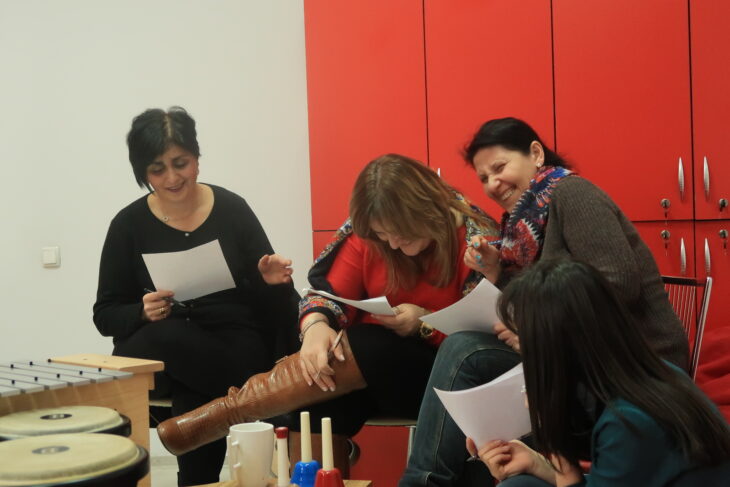 The Conference itself was attended by more than 50 people – a huge achievement for the inaugural Music Therapy Conference in Georgia. The gathering of existing partners, interested practitioners, parents, managers, music therapists and government representatives created an environment of genuine excitement for what the future holds for Georgian music therapy. Following the Conference alone, three people registered their interest in music therapy training in Georgia in a further sign of the development of the practice in the country.
There was a real sense of celebration of the power of music therapy and of the developments in Georgia.

Music therapist report
Related projects
Follow-up visit: Public Schools No.198 and No.200, and Parent's Bridge Centre (Tbilisi) 2019

Georgia

Children
Adults
Disability
Young people

Capacity strengthening
2019

Conference Participation: Music Therapy Centre (Tbilisi) 2019

Georgia

Children
Adults
Disability
Young people