New skills gained, and connections forged
Georgia
Adults
Children
Disability
Young people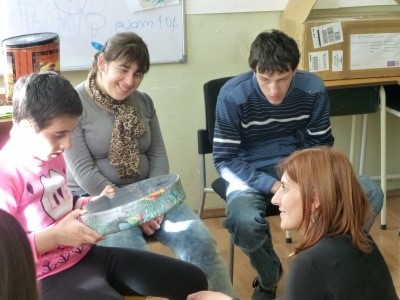 One week before this project was due to begin, Isabel travelled to Tblisi with Alistair Robertson – another Advisory Panel member who was returning to provide support to our original Georgian partners at School 200. Together, they met the teachers at School 198 (a specialist school for children with disabilities) who were about to embark on this project with us. Their excitement to begin training was palpable, and they had already selected the students for the project. Later, Isabel and Alistair travelled to the second setting, on the other side of the city: The Parent's Bridge. This centre had been set up by Teona, School 198's Headteacher, and was one of the few day centres in Georgia for young people and adults with learning disabilities. By the time Jenny arrived a week later, all six staff involved were ready and excited to begin.  
The group began by establishing a number of different music groups at both the centre and at the school. Whereas ten children from School 198 took part, groups at The Parent's Bridge were more open and flexible. The in-situ learning for staff in the music sessions was accompanied by several training workshops, during which staff from both settings came together to reflect on what they'd learnt so far. With the help of a translator, these sessions enabled the group to speak in much more depth.
We held our first staff workshop on Friday, with a translator, and the response was very positive. everyone seemed excited and keen to get stuck in and learn more, and I was impressed by the sensitivity, enthusiasm and intuitiveness of the staff group as a whole in their approach to this new style of working.

Jenny and Isabel's blog
After a couple of weeks observing Jenny leading music sessions and modelling music as therapy, staff began to take the lead. By the fourth week, the music groups at both settings were well and truly in full swing. The new approaches to music they were learning were clearly bringing out new reactions both in the students and the staff, and encouraging some really wonderful interactions between different combinations of individuals in the groups.
Jenny and Isabel were consistently impressed with how quickly and naturally the staff were adopting their learning. In fact, they arrived at School 198 on the morning of week four expecting the staff to lead just one activity each, to find one member of staff had come in with a full lesson plan and proceeded to confidently lead a group!
The staff gave us some fantastic feedback, and we were again impressed by what they had observed in the sessions they seemed to be noticing everything that I hoped they would notice, which is very encouraging!

Jenny and Isabel's blog
I am very grateful that I had a chance to meet these incredible people, Jenny and Isabel, who held the sessions incredibly well and increased our interest towards the music therapy. I was very pleased that I was included in this project as I have learnt many new skills and activities. The results were obvious when working with the children.

Staff feedback
By week six, with a final debate-filled staff workshop and certificate ceremony complete, all six staff were leading sessions according to their own individual styles. Ten children from School 198, and 32 from The Parent's Bridge, had taken part in the music groups. The opportunity to experience music as part of care had been created for 220 vulnerable children across both settings. Not only this, but Teona confirmed that music sessions had already been scheduled into both settings' timetables – a really positive indication that their management were supportive and preparing to make this a truly sustainable project.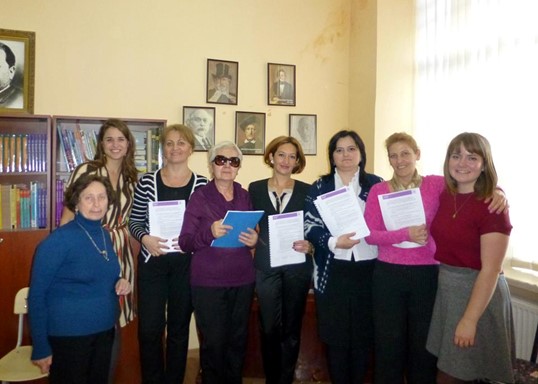 Related projects
Introductory training
2014

On-site skill-sharing: Public School No.198 and Parent's Bridge Centre (Tbilisi) 2014

Georgia

Adults
Children
Disability
Young people