Respecting local practice
India
Children
Disability
Young people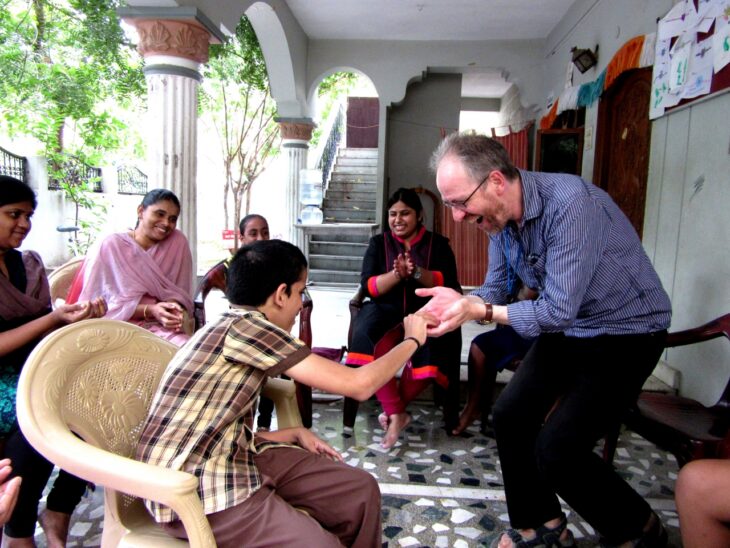 In 2015, in partnership with the Otakar Kraus Music Trust and Indian music therapist Somesh Purey, Advisory Panel member Alastair Robertson delivered a five-week Introductory Training project in two schools in Hyderabad, India.
Patashala School serves children between the age of two and ten years from the local community in the surrounding area. Many of these children lived in poverty and had a wide range of learning difficulties due to the social and environmental conditions in which they lived. The Autism Research & Multidisciplinary School (ARMS) is a centre providing care and education for children with autism and a range of other disabilities.
With the training taking place on-site during the normal working day, it didn't take long for members of staff to begin noticing positive changes in the children they worked with. From increased interaction between pupils to improved levels of concentration and confidence – not to mention enjoyment – it was clear interactive music-making could change the care landscape within the two settings.
I like my children are very interested to participate in this music therapy. This is very important to our children
At the project's completion, 10 members of staff across the two settings now had the skills, resources and confidence to run music sessions independently. As they put their learning into practice it would create opportunities for more than 300 children to access interactive music-making as part of their care and education.
We wish we had done this earlier, but it is better late than never. There is a lot of change, their outlook has been changed. The approach to our children has been changed, from the teacher's point of view and from the parent's point of view. This is just the start… This will continue, certainly it will continue.

Dr Sidhu, Director and founder of ARMS
Related projects
Introductory training
2015

On-site skill-sharing: Patashala Primary School and Arms Centre (Hyderabad) 2015

India

Children
Disability
Young people