Structured training in the context of Covid-19
United Kingdom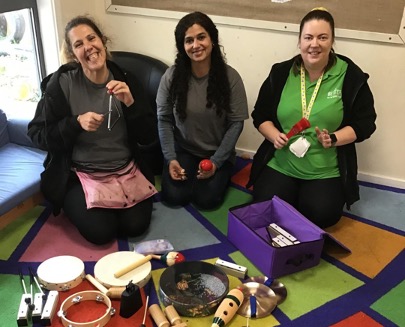 In 2019 we recruited 10 strong students from across the UK, from a range of backgrounds (independent practitioners, early years professionals and school teachers) after record interest in the course.  The group began with a taught component, coming together for group learning sessions during the autumn term, and then put their learning into practice with their own groups of children.
However, in March 2020, when many students were midway through their Practical Assignments, the coronavirus pandemic hit, and the UK went into a national lockdown. 
As testament to the resilience so commonly found among our partners, the students kept going despite the setbacks, showing us the results of their learning and new practical skills in a series of online presentations. They told us about the impact they were already observing in the children they were working with, and the changes in their own confidence as their sessions went on.
Interactive Music-Making has given me confidence in my working practice, and the skills to run more meaningful singing and music sessions.

Clare, Early years practitioner
Their practical assignments mean that 40 children were able to participate in meaningful music sessions, and the students observed tangible benefits to their emotional wellbeing and development throughout. It was also clear the changes the course was making to the students too. They reported that they were rethinking their care practice, even beyond early years, and were excited to be delivering music sessions when they graduated. 
It made me rethink the thought processes and skills behind all that I plan to teach…It will make a huge difference to what I am able to deliver.

Carolyn, Early years practitioner
Together, these 10 students have created opportunities for 3,596 children to access music as a part of their care. Though they graduated into lockdown, their perseverance and commitment to making music an integral part of care is truly inspirational.
I always have used music…but this course not only has given me confidence but has enlightened me to realise the power of music to help children.

Silbia, Early years practitioner
Related projects
Introductory training
2019

Structured training: Interactive Music-Making (London) 2019

United Kingdom